Photos Around Santa Cruz...
Enternet Skateboarding Photographs
---


Click on any outlined picture to download a larger, higher quality version in jpeg format!



---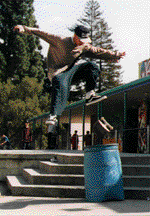 This picture shows local santa cruz skater named Sky performing a nice kickflip down a flight of four stairs and over a trashcan. (I hear he's somewhere on the east coast now.) He rides away with both feet on the board, but does place one hand on the ground as he lands.
I like this pic, though, so I've put it up for you nice people. For a limited time only, a detailed jpeg (~105K).

---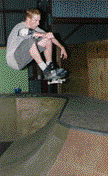 Noah Rector, here at the cannery displays his feelings about frontside ollies over hips. The large, fine-grained JPEG version (60K) is pretty cool.

---
Go on to the

photos at Derby,
or the

Photos from SF, Napa and Long Beach
---
Enternet Skateboarding Contents
Cover,


Videos: Dan Dunham and Larry,and Birdhouse Projects videos.
Photographs by Josh Rabinowitz: Around Santa Cruz, At Derby Park, and in Napa and SF.
Tim Brauch Photographs by Chris Kardas,
and some Skates Spots in Northern California.
---
Influx 2 | Enternet Skateboarding | Email | What's New | SkateTalk
We also highly recommend that you check out our new Home Page.